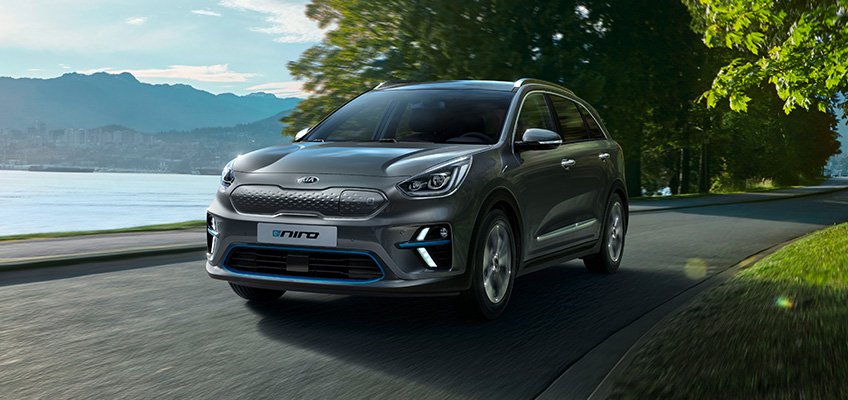 Previously awarded the 'whatcar car of the year' award, the e-Niro is Kia's entry into the electric SUV market. A perfect sized car for drivers with a family, the e-Niro offers adventure and practicality with extremely low running costs. With a price point closer to the Nissan Leaf and E-Golf, the e-Niro is a cost effective alternative to premium electric vehicles such as the I-Pace or Model S.
The e-Niro supplies drives with a generous amount of tech as standard. For example every vehicles comes with an 8 inch touchscreen along with Bluetooth, Apple CarPlay/ Android Auto as well as sat-nav and DAB radio. All features are well set out on clear menus with a clear resolution screen making navigating each feature a breeze. also supplied as standard are parking sensors front and rear as well as reversing camera. The interior itself feels robust as it is built from a fixture of soft touch plastics and hard materials.Visibility also scores highly thanks to good sized windows at both the side and rear of the vehicle.
In regards to performance drivers wont be disappointed by the e-Niro as it'll get you from a standing start to 60 mph in a brisk 6.9 seconds. This Kia model will do 282 miles from a single charge according to Kia, however expect this to be somewhat affected by real world conditions as with any vehicles. Steering feels well weighted through corners, giving drivers just enough sense of what is going on beneath them to enjoy the driving experience.
Being a family sized SUV, practicality is a big feature of the e-Niro. The interior can comfortably transport 5 passengers, with 6 foot plus passengers still able to stretch out thanks to a high roof. Rear seats fold down in a 60/40 configuration for extra storage space in what is already a good sized boot. The e-Niro is a great lease option for drivers with a family to take care of who are looking to drastically cut driving costs.